It's been a hot and dry couple of months, and I'm looking forward to fall rains and the fruiting of fungi.   Yes, I am dreaming, but I am also planning and developing a strategy for how to handle all the harvesting that should come with the upcoming moister season. 
How will I deal with the abundant crop that I am forecasting?  Here's one idea for any surplus mushrooms that end up in my kitchen.  And, many thanks to my friend Lynn, who lead me to this particular recipe.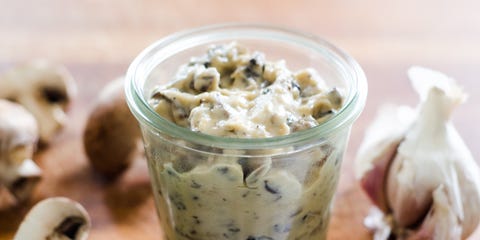 Erica Kastner's Homemade Condensed Cream Mushroom Soup
6 ounces m
ushrooms, finely chopped
1/4 cup
finely diced onion
Salt and pepper, to taste
1/4 cup all-purpose
flour
Melt butter in a skillet over medium-low heat. Add mushrooms and onions and sauté until tender, about 8 minutes. Season to taste with salt and pepper.
Add garlic and cook for 2 minutes. Add flour and cook for an additional 2 minutes. Quickly whisk in cream and chicken broth until smooth. Bring to a boil and boil for 1 minute. Remove from heat. Taste and adjust seasoning if needed.  You want it to be saltier than normal, since this is a condensed soup.
Allow to cool slightly before transferring to a jar or freezer-safe container. Once soup is completely cool, you can store it in the refrigerator or freezer.
To reconstitute, add 1 1/2 cups of liquid, such as chicken broth, milk, water, or a combination.
Note: A 10 3/4-ounce can of condensed mushroom soup is about 1 1/4 cups. This recipe makes 1 1/2 cups of condensed soup.